Marquee Hire Sydney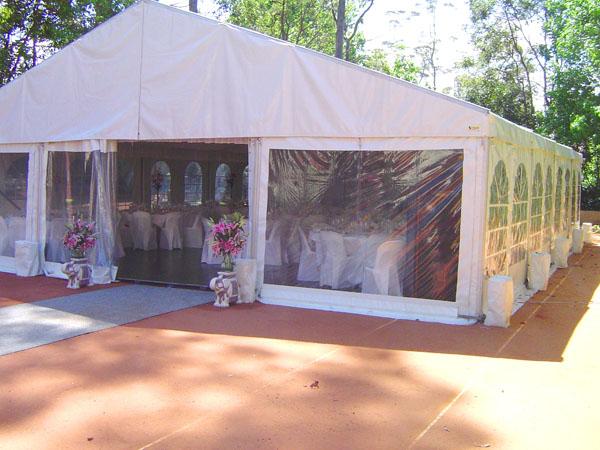 Marquee Hire Sydney
We've got a great range of shelters and marquees for hire and we know that we have something to suit both your occasion and budget.
At Partytime Hire we have two types of marquees both peg and pole and structure marquees. Peg and pole marquees are suitable for grass only. Structure marquees are generally suited for any surface and can accommodate a larger group of people. There are no poles within the centre of the marquee, which allows you to make better use of the space.
Our pop ups are both available to be installed or in a kit form. They are perfect for some shelter or as an economical 'just in case' option. Very popular with kids parties, fetes and festivals and home entertaining. All of our pop ups are suitable for grass or paved areas. Our prices include the cost of weights and sides.
Another option for shelter is an awning . Awnings can be customized to suit a specific area. These are also available in 'kit ' form to do it yourself, or our team can install them for you. Awnings generally are used to assist the flow in between indoor and outdoor areas. Awnings are not freestanding like marquees are and need to be 'tied off' from somewhere such as a fascia board, pergola roof or roof tile. Drilling may be necessary.
FAQ's Marquees and Shelters
Q: I want to hire a marquee or shelter but I have no idea where to start. What should I do?
A: Click here and fill out the information regarding your event. One of consultants will contact you, and if suitable, can arrange for one of our event planners to meet you on site to provide an accurate recommendation and quotation.
Q: I have no idea what sized marquee I will need for my event. Is there a guide that I can follow?
A: If you look through some of our images in the marquees section you will see a floor plan and also a guide for how many people we suggest for maximum seating or standing. If your guests will be seated at tables, keep in mind that a rectangle table takes up much less space than a round table. You will also need to allow for any 'extras'. For example – dance floors, stages, cake tables, bar areas, buffet tables, catering tents or areas. As a guide, you should allow the following : Cocktail style events – allow 0.6m2 per person / Theatre Style seating – allow 0.8m2 per person / Sit down dinner – allow 1.0m2 per person / Sit down dinner with dancing area – allow 1.5m2 per person / Banquet style table arrangement – allow 0.6m2 per person, per side.
Q: What is the process for hiring a marquee?
Either phone our office (02 9417 7477) or fill out the form that's located at the bottom of this page.
After assessing your needs, we will normally book in a obligation free site inspection. Within 24 hours of the site inspection, you should receive your detailed quotation. Should you wish to confirm the booking, we require a 30% deposit. For weekend events, our shelter installations generally take place on a Thursday or Friday. This will be discussed with you with one of our Event Consultants. We generally dismantle on Mondays or Tuesdays. Again, this will be discussed with you. Depending on the type of the shelter, the installation should take less than half a day to a full day. Larger structure marquees with extras such as flooring can take a couple of days.Dismantling shelters generally is a quicker process and should be done in less than a day. Your area will always be left clean and tidy after our visit.
Q: What is the most economical option for me? Can I do it myself to save some money?
If you consider yourself pretty practical, you could save some money and look at getting a 'kit'. Awnings, pop ups and peg and poles are all available in kit form. We do not offer site inspections for 'kit'shelters. You can pick up the goods from our warehouse if you would like to save even more money. Structure marquees are not available in kit form.